Browsing though Chinese online webshops, I came across a DVB-T+DAB+FM USB dongle that claimed to be modded into a SDR (Software Defined Radio). The price was under 10 euros, so I decided to give it a try. After some tryouts I managed to get it working.
The whole set consisted of the dongle, an antenna (with magnetic foot), remote control and software.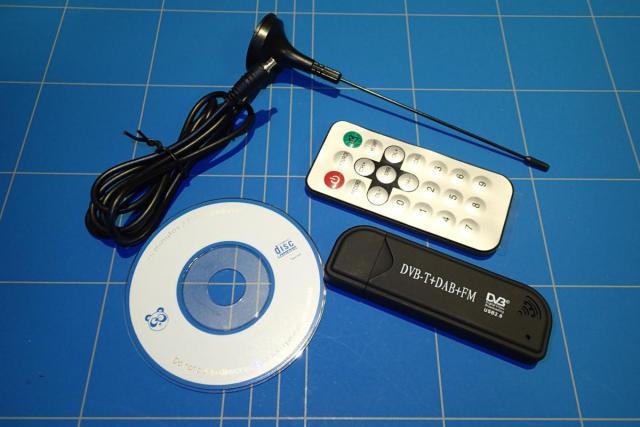 The chip that makes it all possible is the Realtek RTL2832U. The mod that we are talking about is pretty simple and can be learned by watching this video.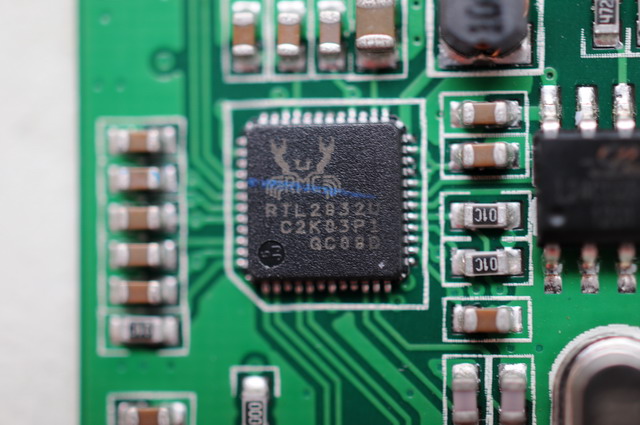 I have started by installing the software that was provided. That were the drivers and a DVB-T tuner application called BlazeHDTV 6.0. The application needed a key and this was also provided, so no problems there. I could watch Free-to-air DVB-T channels and listen to DAB radio stations. But this wasn't exactly what I envisioned SDR was. So I have started to look on the internet and after searching for the term RTL-SDR some links showed up on how to install it. It was based on the SDR# application, which is free. After unzipping the application and starting it I still couldn't connect to my RTL-SDR. What it needed was a driver. On the RTL-SDR website I have found instructions on how to do this. Below I will summarise the steps that are needed on a Windows 7 machine.
First you have to execute the install-rtlsdr.bat file inside the SDR# application folder. This will download an executable file called zadig.exe. You will need to execute it as Administrator. You can do this by right clicking on the executable file and selecting run as administrator (as shown below):

After the application will show up, select "List All Devices" inside the Options menu: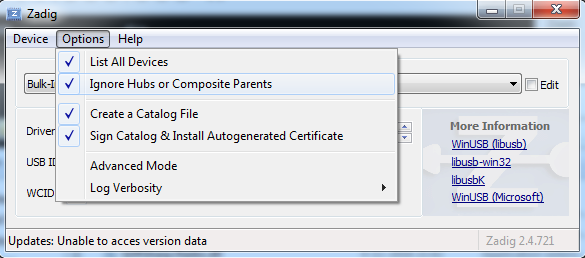 Then in the drop-down choose: Bulk-In, Interface (Interface 0). Check that the USB ID is 0BDA 2838 00.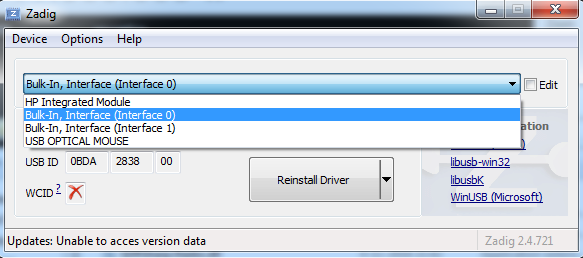 Then (with the small arrows) select WinUSB driver and click on [Replace driver] button. In the screenshot below it says [Reinstall Driver] as I took it after the installation. Somehow the first time I tried to install it failed (timeout after 5 minutes), but then after restarting the machine it worked. I guess that I learned something from on of my favourite series IT crowd.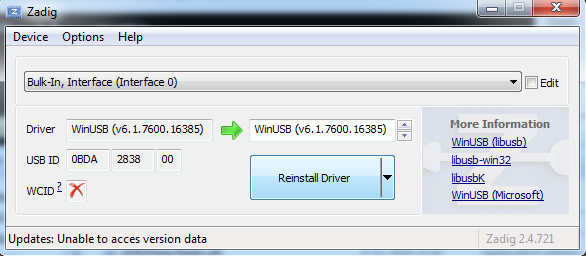 Now after starting SDR# application and clicking on the cogwheel icon next to the RTL-SDR (USB) drop-down it showed the correct device. In this dialog windows you will also need to turn the RF Gain all to max.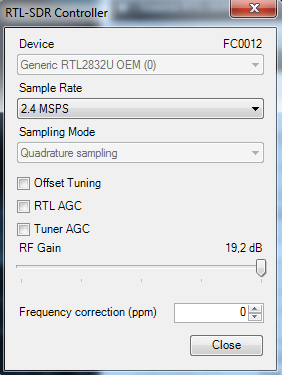 Then you can press the "Play" button and the SDR will start working.
I have also found this video which explains 5 cool things you can do with the RTL-SDR receiver.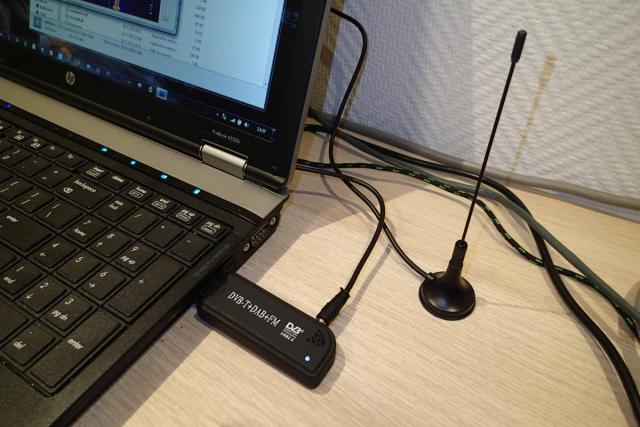 To hook up the antenna on the outside I have connected an USB extension cable. This boosted the signal right away and I could listen to some Airband frequencies and VOR tower signals.
Category